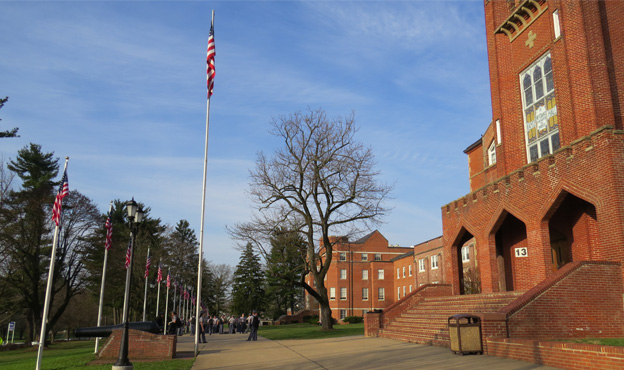 Producing Confident, Capable and Productive Citizens
Massanutten Academy is a coeducational, college-preparatory military boarding school and day school for young men and women in grades 7 through 12. Located in historic Woodstock, Va., in the scenic Shenandoah Valley, Massanutten Academy strives to provide a structured learning environment that produces confident, capable and productive citizens who are prepared for lives of leadership and service, as guided by the school's founding motto, "Non Nobis Solum" ("Not for ourselves alone").
The final outcome of Massanutten's curriculum can be seen in the way its cadets carry themselves in uniform for formations and parades: teens who are proud of themselves and their accomplishments.
Military Traditions
The school's military traditions provide a framework that allows young people to learn good decision-making skills, personal organization, and how to be helpful within their communities. Whether it's in the classroom, on the sports field or in the dorms, cadets know that lessons are learned throughout the day, and that school faculty and staff are available to them 24 hours a day, seven days a week, as teachers and mentors.
Massanutten Academy defines "military traditions" as:
Properly wearing the cadet uniform
Following a reliable schedule
Using good manners
Becoming socially conscious
Participating in daily formations and parades rooted in military historys
As with many private schools, Massanutten requires students to wear a uniform, and has chosen the classic cadet attire, parade dress and ACU's (Army combat uniforms) for cadets to wear on campus. When students dress properly, they hold themselves to a higher standard, are happier overall and develop a sense of provide—qualities that are important throughout their lives.
Structured Learning
Structured learning is best described with Massanutten's dependable schedule. Cadets have the opportunity to establish great study habits and a sense of responsibility by following a set itinerary each day. Learning to be accountable is crucial to students' success in college and in their chosen careers.
Learning to become a good citizen is a large part of that learning. That includes being aware of situations and responding in a helpful way. By practicing the act of being kind and thoughtful, students learn respect for themselves and others. Knowing how to do the right thing is important for cadets, and for the world in which we all live.
These traditions help Massanutten Academy define its culture and stay true to its mission.
My Time
"My Time" is the focus at Massanutten Academy. Everyone in the Massanutten family has a unique view of "My Time." It's a special way to identify roles and keep focused on the community.
For cadets, it is their time to learn, to play; to build confidence and become caring citizens. For teachers and staff, it's a time to share their life lessons and create a center for guidance. Parents now have time to help their sons or daughters develop a sense of independence. And the school's generous alumni find it's their time to give back to ensure the continued success of future graduates.
Massanutten Academy is located at 614 S. Main Street, Woodstock, VA., 22664. For more information, call the admissions office at 877-466-6222 or visit www.militaryschool.com.