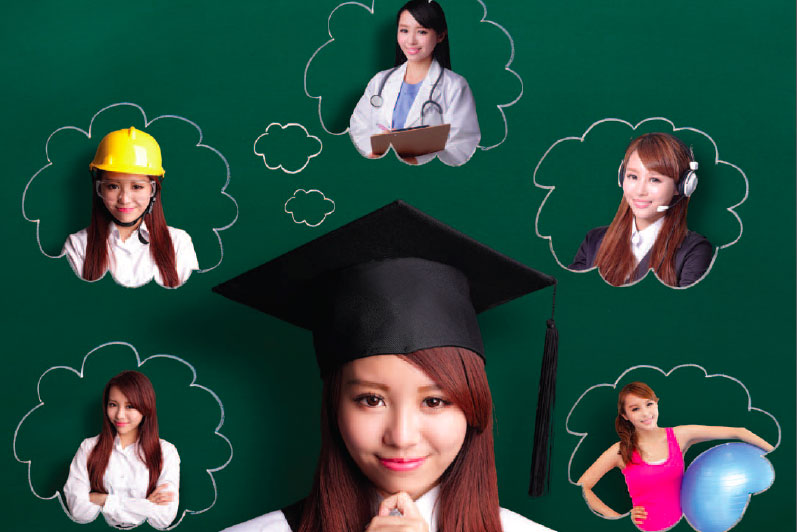 Preparing Students For A Career
How Georgia's Schools Are Producing Career-Ready Graduates
By Anna Bentley
For many high school students, deciding on a possible career can be a daunting decision. The options seem almost endless, and it can be hard to successfully translate interests into viable career options. Luckily, Georgia's public and independent schools are dedicated to helping students wade the sometimes murky waters of career preparation. By implementing special programs, offering enriching co-curricular activities and developing personal connections with students, Georgia's schools are committed to getting students on the right path to a bright and successful future.
Providing Individualized Guidance
One of the biggest advantages of independent schools is their smaller size, which allows counselors and advisors to make personal connections with students, helping to inform conversations about possible careers, college majors and college selections.
"We talk to our girls, not just the college counselor, but all of our faculty, about what they care about, what their interests are, what they're passionate about and what they're curious about," says Joan King, academic dean at Atlanta Girls' School, an independent girls' school for grades 6 through 12 in northwest Atlanta. "Then, working with the college counselor, we don't just try to find the best name or brand, but we seek to match students with strong programs that meet their interests."
Small school sizes also help advance the counseling process. At Pace Academy, for instance, preparations can begin as early as ninth and 10th grade, with informational meetings for parents and students. And at Atlanta Girls' School, the college counseling process begins in 10th grade with small group meetings with college representatives.
Students are encouraged to explore academic interests both in and outside the classroom, by either doubling up on core competencies like math, science or English or exploring interests through electives or co-curricular activities.
At Atlanta Girls' School, weekly assemblies can host guest speakers ranging from lawyers to dog sled racers, so students can learn more about careers they may or may not have considered. In addition, the school's 70-hour internship program—a requirement for both sophomore and junior years—places students with budding interests in relevant for-profit and non-profit businesses across Atlanta, allowing them to explore different careers and workplace environments.
Similarly, Pace Academy offers students opportunities to learn about business principles and specific academic interests like history, science and art, says Director of College Counseling Gavin Bradley. Through the Isdell Center for Global Leadership, students can choose from international study tours with specific academic focuses, like studying water systems and water issues in Africa, or the art and culture of India. And the Entrepreneurship Challenge lets students develop business skills like innovation, collaboration and leadership.
Offering Programs for Success
Providing individualized options for students is a priority in Georgia's public schools, as well. The Georgia Department of Education's Career, Technical and Agricultural Education (CTAE) program offers students specialized instruction in more than 120 subjects, letting them explore careers before graduation—and even earn technical certifications, in some cases.
In this program, pathways are arranged in broad career clusters (for example, students can follow a graphic design pathway in the arts, audio/visual technology and communications cluster). Each pathway has its own sequence of three specialized courses, followed by an end-of-pathway assessment. Students can pick from more than 120 pathways in 17 clusters, including finance; IT; transportation, distribution and logistics; education and training; and agriculture, food and natural resources.
"It's not required that they choose one of the 17 clusters. They can also enter a pathway in fine arts, world languages or one of the academic core content areas of math, science, social studies or English/language arts," says Pamela Smith, interim director for the CTAE Division. "It's not a graduation requirement to select a pathway, but it's strongly encouraged so that our students will have the opportunity to explore and experiment with different career opportunities."
Though students pick their pathways in eighth grade, the program starts early, with career awareness lessons beginning in the first grade. Later in middle school, students take a career development inventory to help drill down into careers that might interest them before developing their personal graduation plan with input from their school counselor and parents.
"By the eighth grade, these students at least have an idea of the direction they would like to go," says Emily Spann, CTAE program manager. "They can change of course during high school. But they at least have something that they can look at so they can know what courses they need to take in grades nine, 10, 11 and 12."
What Parents Can Do
The path might seem clear for students who have solid ideas about their futures. But what about those who don't know what they want to do?
For those students, "a college that has a wide range of strong suits is a good idea," says King. "Perhaps a liberal arts college. Maybe even a gap year is a good idea for that girl. It's definitely not one-size-fits-all."
Indecision can also derail plans for students who might have thought they had everything figured out. "Adolescent development in these last years of high school is still going on at a very high rate," says Bradley. "They're changing quite a bit, and their opinions are changing. We need to give them permission to change their minds as they evolve and develop."
Whether your child has a clear plan for what he or she wants to do, or is still struggling to figure it out, your involvement is crucial. Be involved in their education and maintain an open dialogue about their goals. Strong parental support can help students set and achieve career goals that perfectly fit their skills and interests.
For More Information
Atlanta Girls' School
404-845-0900
www.atlantagirlsschool.org
Georgia Department of Education
www.gadoe.org
Pace Academy
404-262-1345
www.paceacademy.org